USB-C 60W Power Delivery Module
Ideal solution for small to medium sized devices as well as higher-powered notebooks.
This innovative charging technology charges any electronic device without an external power supply unit, while doing so quickly and safely.
Power sharing technology allows the system to share 60 Watts of total power valuable between USB-C PD and QC (maximum 60W) and USB-A (maximum 10W).
Features
USB-A bi-directional connector.
Latest USB-C Power Delivery Technology.
Fast Charging USB-C Power Delivery (PD) and Qualcomm® Quick Charge™(QC).
Fast Charging USB-A.
Current and temperature overload protection.
Module can be integrated into any Poweset series from the D4 range.
Specifications
Input : 60 Watt, 100-240V~, 1.5A, 50/60Hz
Ouput
(USB-C or USB-A used independently)
Type-C : PD : 5V 3A/9V 3A/15V 3A/20V 3A
QC : 5V 3A/9V 2A/12V 1.5A
USB-A : 5V 2.1A
(USB-C or USB-A used simultaneously)
Type-C : PD : 5V 3A/9V 3A/15V 3A/20V 2.3A
QC : 5V 3A/9V 2A/12V 1.5A
USB-A : 5V 2.1A
USB-C 60W Power Delivery
White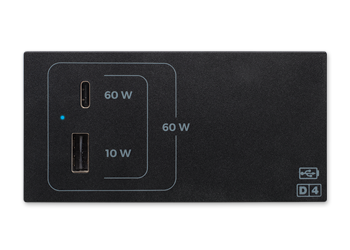 Black
South Africa Letter of Authority LOA certificate number: 143889/001
SANS IEC 60950-1
CISPIR 32 /35
IEC62368-1