CouchPotato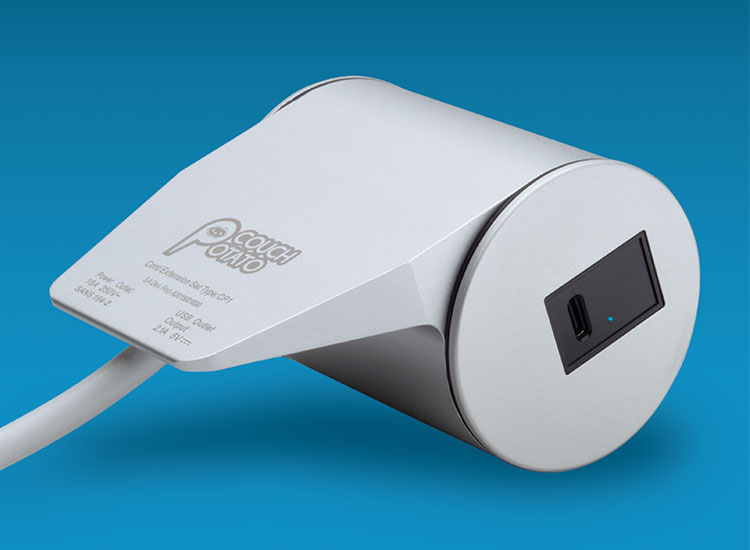 CouchPotato with USB-C module
A stylish extension cord accessory for charging your electronics, ideal for soft seating office spaces. Designed to be tucked into a couch or under a cushion. Patented design. Solid Aluminium Construction.
Two installation options:
Temporary tuck-in.
Thru-wire permanent.
A 4 meter cord included.
Module Options
Socket Module
Compact South African socket – Compatible with 2-pin and new 3-pin SA pin patterns.
USB C Module
USB - PD 5V/3A (15W) ; 9V/2.22A (20W) ; 12V/1.67A (20W)
USB - QC 3.0/2.0 5V/3A (15W) ; 9V/2A (18W) ; 12V/1.5A (18W)
USB A Module
USB - PD 5V/3A (15W) ; 9V/2.22A (20W) ; 12V/1.5A (18W)
USB - QC 3.0 QC 3.0/2.0 5V/3A (15W) ; 9V/2A (18W) ; 12V/1.5A (18W)
USB Type-C and A Module
Input : 15 Watt, 100-240V~, 0.4A, 50/60Hz
Output :
(USB-C or USB-A used independantly)
USB Type-C : 5V 3A
USB Type-A : 5V 3A
(USB-C or USB-A used simultaneously)
Colour Options
Anodised silver body
Powder coated black body
Custom colours and personalised lazer engraving available on request, at an additional fee
CouchPotato Installed